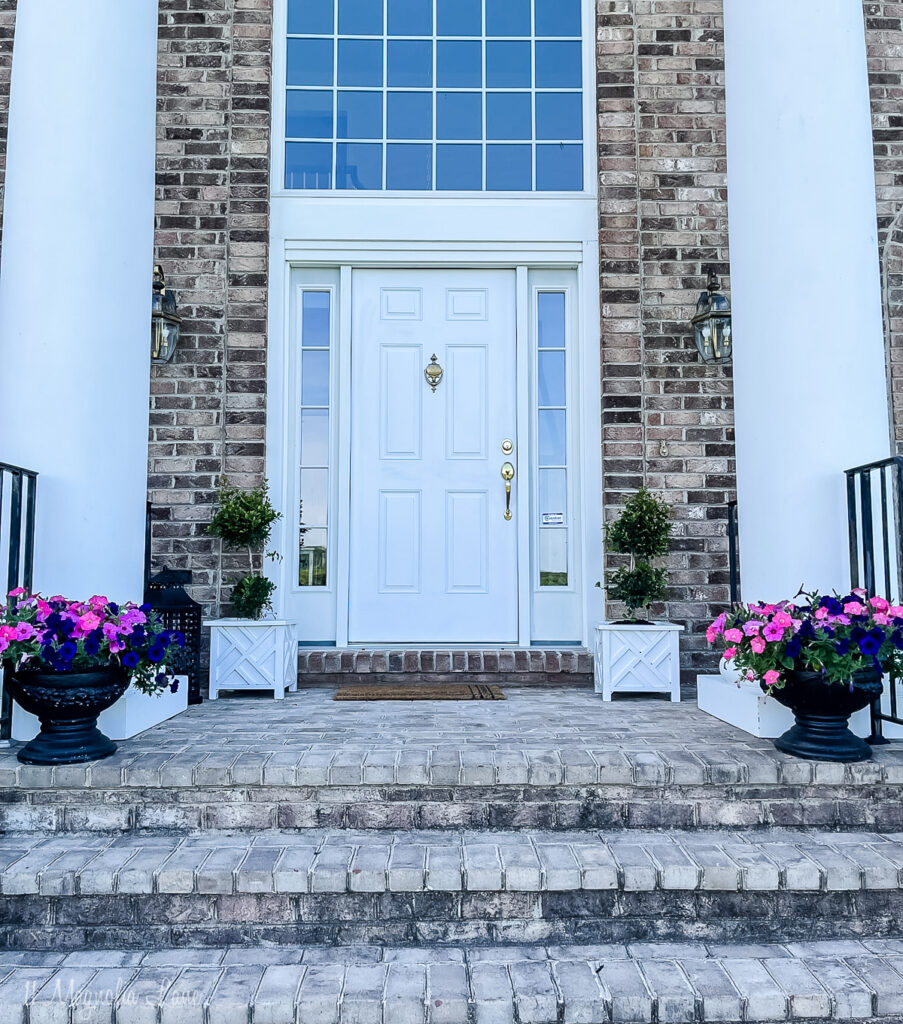 We have been in our new home now for over a month and while we have definitely done a lot, including weathering a major storm, I am not sure we have much to show for it! I wanted to give an update since I think it's fun to see progress though with this home, we have so much we hope and plan to do, it is just going to take a bit before we have complete projects with pretty "after" pictures.
To begin with, the construction on our basement started. Getting this space whipped into shape was our top priority. Not only will it add quite a bit of living space to our house, but our teenage kids really miss having a space to hang out with friends. Right now the weather nice so they are enjoying bonfires and outside time when friends come over, but come winter it will be nice to have the basement space. They finished framing the rooms this week and will be moving on to the electrical work next. We had to consider all sorts of things, like adding gas lines since we'll be adding a generator and extra electrical for our future kitchen renovation so it has been a lot of planning in a short time. We also went ahead and had the bathroom framed in the basement though it won't be fully finished right now as we will need access through the ceiling once the kitchen renovation begins. We decided to put in a large bathroom in the basement for two reasons, one to make use of the existing plumbing rough-in to avoid jackhammering the basement floor up, and two, as our future hope is to put in a swimming pool, this will be the pool bathroom. I added a large closet and a big shower, so it will hopefully serve us well for years to come.
While the timing of our kitchen renovation is still TBD, this week I'm meeting with the cabinet designer and that should help us get a better idea of how to proceed. Originally I thought we would start in the Fall, but the range I am hoping to get is at least five months out. If we push we can be done before the holidays but that makes me nervous that we'll be trying to renovate a kitchen during the holidays, which would be no fun at all. I am thinking we'll slow it down a bit to be safe, it will all get done.
Finally, I am probably most excited that we finalized our patio plan and that should now move along quickly. It will connect our small deck to our driveway in the picture above. We miss having outdoor living space, right now we utilize the driveway and it's not the worst thing in the world but it will be nice to have something a little more formal. I am heading to the showroom to finalize the patio color and stone for it this week, then it should be done within six weeks. What could happen, if we get lucky is that as we don't have to wait on an HOA approval we could slide ahead of another project that can't start as scheduled, so we may get bumped up. Even if not, we should still be done by the end of August which will be just in time to enjoy the colors of fall!
Finally, we have one last project that we weren't expecting to be able to do. Our basement contractor added a ceiling in the elevator shaft making it usable space on our main level. Rather than take out the walls all together, and I'll share more about why we aren't doing that in a future post, we are going to turn it into a butler's pantry. I am so excited! I definitely miss having the wine fridge area we had in our last home (see it here), and this will give us extra storage and an entertaining area off our living room.
Most of my spare time has been spent working on the yard and the landscaping, which is a big project. It's not the best time to plant anything now that it's so hot, so I am trying to be patient. I ordered more hydrangeas and iceberg roses along with peonies so I'll have quite a bit to plant when the time comes this fall. I have also been adding these solar lights along all our walkways and driveway, I was skeptical at first that they wouldn't work well but they have been great. They add much needed light at night and define all our paths nicely. I was surprised how bright they are!
I'll share more specifics on each project, including a basement design plan, the butler's pantry plan and more about the kitchen renovation all over the next few weeks. It's been an exciting few weeks living here, I look forward to seeing it all come together!
PS Thank you all for the comments and messages on my recent storm post, I will answer all of them soon and appreciate the kind words! I also heard from you all that you want more content on being prepared for emergencies, I'll be sharing more over the next few months.
XO,
Please visit my Health and Wellness website 11MLWellness here.
Please visit my Health and Wellness website 11MLWellness here.
We promise to never sell your email information. Our posts contain affiliate links. If you make a purchase after clicking on these links, we will earn a small commission, which helps to keep our content free. You don't pay a cent more than you would otherwise, since that would be tacky! Please see our full disclosure policy here.
YOU MIGHT ALSO LIKE THESE POSTS... :