In these strange times, it is a little hard to imagine that Mother's Day is around the corner. For many of us, not only is this day about showing appreciation for the special moms (or mother-like people in our lives) but if we are lucky, we might get some extra love from our family as the mom too! I also recognize that for many this day is not always without sadness, Christy shared a post about her lovely Mom who is always in our hearts here.
Today I wanted to round up some gifts you can get or send to your mom/mother in law etc. Of course you might also want to send the link to this post to your husband if he needs a reminder that Mother's Day is, yes, just over a week away! I tried to include gifts in all price ranges and some that support small businesses, as this time is challenging all around. So here are some of my favorite ideas for this year.
My birthday is almost always within a few days of Mother's Day so I have shared before that holiday often gets skipped in our house. My husband, sweet as he is, usually goes overboard for my birthday and then considers it done. I am not complaining since it's fun to have both holidays to celebrate over a few fun days. For the last few years I have hinted that the only thing I want is a new garden plant, something to watch grow year over year instead of flowers that will only last a week. Last year my kids brought me a beautiful peony from the neighborhood nursery and I loved it, and it is just about to bloom again. If you can't or don't want to go out, you can order plants delivered from Home Depot.
This is a little bit of an expensive gift but it is worth a mention because this is hands down, one of my favorite things. I asked for a Slip Pillowcase from Nordstrom for Christmas last year (it was the main thing I wanted, my husband bought it for me) and honestly I absolutely love it. If you want a bit of a splurge gift, this might just be the thing. It is so luxurious to sleep on, prevents wrinkles (supposedly) and is cooler to the touch than regular pillowcases. You can also get a matching eye mask here (I swear an eye mask is the secret to good sleep). A less expensive option is here, and an eye mask I have and use nightly is here.
Books are always one of my go-to gifts both to give as well as something I love to receive. At the end of the day, a beautiful coffee table book will be enjoyed for years to come. They are affordable, easy to send from Amazon and come in topics to please everyone. I would suggest right now, if you can, to order from your local bookstore if possible.
Here are some of my favorites:
Last year I gave my Mom the Flowers book by Martha Stewart. I had to spend a few minutes looking through it before I wrapped it and it's amazing. It is like an encyclopedia of flowers. It has so many beautiful pictures and includes anything you could ever want or need to know about all the most popular flowers– peonies, hydrangeas, tulips, ranunculus, roses and much more. This book would be a lovely gift for the gardener in your life.
If you are buying for someone who likes to cook, I recently treated myself to the Half Baked Harvest Super Simple cookbook. The recipes are creative, look delicious, (perfect for this time when there is extra time to cook) and the food photography is gorgeous. I feel like it inspires me to branch out in cooking.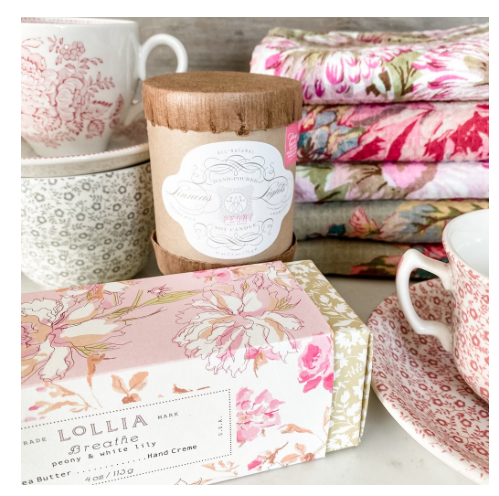 Here is a great way to support small business and send a lovely gift. I enjoy following Amy Nelson Hammon on Instagram and I have shared how much I love her cookbook in a previous post. Her brick and mortar store 'Euna Mae's' is offering a Mother's Day Gift Box filled with the loveliest things, and they will send it directly on your behalf so it is easy and done! The box includes a candle, tea cup, Lollia hand lotion and the prettiest floral dish towels, all perfect for Mother's Day.
I know that most moms tend to put themselves last, so something pretty and a bit frivolous like a pair of soft pajamas, a pretty robe or comfortable slippers, something mom wouldn't buy herself, is always a thoughtful gift. I love the Moonlight pajamas HERE.
Also, there are a ton of cute pajamas on sale here. I love these pink silk ones above and can't resist sharing these cute lemon ones. They are offering 30% off right now with the code 45878.
This robe is so pretty isn't it? I love how it is cozy but not too bulky.
L'Occitane Hand Lotion. I an picky about my hand lotion and this is by far the best one I have found. It is a little pricey compared to drug store brands but a little goes a long way. I carry a small one in my purse, have one in my desk and often gift these to friends. The smell is light, they are made of natural ingredients and most importantly, it makes your hands so soft. You can also buy it here.
I love these floral monogram mugs. They are so fun for spring, they have been one of my go-to gifts recently. At just $14 this will make anyone's morning special. You can also add a nice box of tea to make it extra special.
I think this small pink Keurig is the cutest! Perfect for one person and the color will brighten anyone's morning. (I also think this would be a darling graduation gift for a girl since that season is almost upon us too).
I have had my eye out for a pretty summer purse (because hopefully we'll be leaving the house again at some point which will require carrying a purse!) and this classic Kate Spade white hobo is a pretty style and I love the pebbled leather, it is also on sale.
I have had my eye a Corksicle Wine Glass for awhile now. They keep your wine (or beverage of choice) nice and cold, this is perfect for summer months though this also might be something that is very useful during this time at home.
Here are some ideas that don't cost much at all.
Gather your family members and have each person write down what they love most about "the Mom". Compile it into a frame, a book or a card. This is a hard time for everyone, a gift like this will matter that much more.
Download these printable from Rifle Paper Co. and decorate cards, this is a great activity for anyone who needs a lift. So many people are isolated from their families right now, my daughter has been working on these for special people.
Gift a blank journal or a Memory Book. This is the perfect time to write down childhood memories, birth stories and other things that may someday be forgotten. Knowing you can pass these memories down is priceless. You could also gift a Recipe Book to compile treasured family recipes in one place, now is a great time for a project like that.
Chat Book Album. Fill a book with favorite pictures and memories. Another treasured item, especially for a distant relative who may need a lift right now.
Download and frame a printable, we have shared these before but they are inexpensive but still meaningful gifts.
Wherever you are, I hope you are all holding up OK and staying well!
XO,
If you enjoyed this post, we'd love to have you subscribe to our Sunday newsletter where we share our content and other fun things we've found to inspire your day. You can sign up below!
We promise to never sell your email information. Our posts contain affiliate links. If you make a purchase after clicking on these links, we will earn a small commission, which helps to keep our content free. You don't pay a cent more than you would otherwise, since that would be tacky! Please see our full disclosure policy here.
YOU MIGHT ALSO LIKE THESE POSTS... :