I'm really looking forward to Christmas, but I like to give Thanksgiving its due.  That can be hard, sometimes, when the Christmas stuff is in the stores in AUGUST, but I love Thanksgiving, and I think it's one of our country's most meaningful holidays.
My Halloween decor isn't very different from my Thanksgiving decor, because we don't do the whole cobwebs-and-spiders thing for Halloween.  We do carve pumpkins, and I put out luminarias (just white tealights in Ball mason jars) to line the sidewalk and the steps for the trick-or-treaters, but other than that, things don't change very much at our house from October 31st to November 1st.  No wonder, then, that I felt the need to jazz things up a bit today.  Here's how the front porch looks after I tweaked it a bit…
Can't see anything from this far away?  Don't worry, the close ups are next!
My seating area is shown below.  I have a glider, two chairs, and a little table.  The glider is from Walmart (about 15 years ago) and the chairs were $5–for both–at a yard sale.  I have to give them a coat of spray paint every spring.  We love to sit on the front porch in the evenings with a glass of wine and watch the kids playing.  My son and his buddies are usually throwing the football in the front yard, though, so one of us might have to jump in as referee.
I change the colored cushions out a couple of times a year.  Obviously, the orange ones are in rotation right now, but the red ones will have their turn beginning the weekend after Thanksgiving.  As we were sitting on the porch on Halloween, passing out candy, my husband asked me why we had so many cushions!  Sometimes I'm not sure that he "gets" my vision!  As an aside, I buy the cushions from a great Ebay seller (click here for a pillow giveaway), and they are pretty reasonably priced, as well as being completely weatherproof.
Below you'll see my "window to nowhere" on the porch wall, and the hanging candle-lier (is that a word?).  I usually light the candles when we're sitting on the porch, and they get a color change to match the season, too.  The white ones I had out this summer kept melting and wilting off sideways–we had a HOT summer in Nashville!  The metal "B" is from an online store, and I added vinyl polka dots to match the cushions.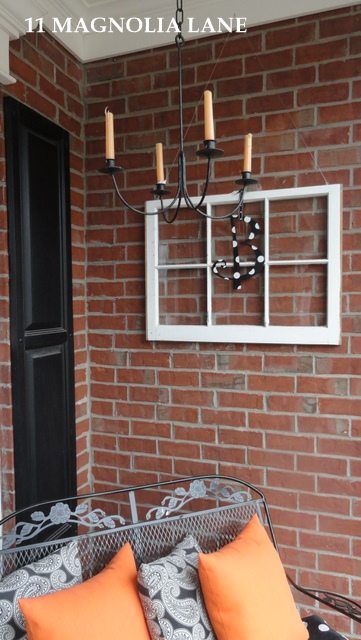 I have two of these pumpkin topiaries flanking either side of the front door.  Usually, I buy the real Cinderella pumpkins and stack those as topiaries, but in this house there's enough of an overhang that these faux ones won't get wet.  The black planters are filled with petunias or impatiens all summer
To the left of the front door, I have a basket filled with extra pillows (take that, honey! 🙂 and the watering can.  I'm not watering much of anything right now, so I filled it up with some sprigs from this cool bush with purple berries in our backyard.  We back up to woods, and there's a lot of interesting greenery back there.
By the way, I think I stole the pillows in the basket idea from Amy's porch post.  Even though she's in Virginia and I'm in Tennessee, we decorate our homes in a shockingly similar manner, and if wasn't for this blog, no one would notice!
I didn't want to leave the mailbox out of the fun, so I put up a couple of grapevine wreaths and wove some of the unknown purple berry plant into them.  My vinca died last week when we had a hard freeze, so I yanked them out and put a few mini pumpkins in the empty space until I find some pansies.
I think my next post will show the screened porch, but let me leave you with this picture as a sneak peak–I am so pleased with the very cool live decor I'm finding right in my own backyard!
Can you even believe those hedgeapples (aka osage oranges)?  I just love them–and they smell so good!
Happy Fall, Y'all!  Thanks for stopping by.
YOU MIGHT ALSO LIKE THESE POSTS... :