Hey, everyone!  Welcome to my stop on The Great Southern Road Trip–the sweet little towns of Southern Pines and Pinehurst, North Carolina.  For those of you who might not be regulars here, my family moved here last summer from Savannah, Georgia (see our Savannah house
here
and read about our horrific move
here
).
My husband has been in the Army for over 20 years, so we move A LOT.  In addition to Savannah, we've also lived in Nashville, Virginia Beach, Alabama (twice), North Carolina (three times), and Clarksville, TN.  Can I just say that Savannah and Southern Pines are our two very favorite places we've lived?
If you're a golfer, then you know Pinehurst.  Home to several US Opens and some of the loveliest golf courses in the country, it's also very popular with equestrians.  Southern Pines has wonderful golf courses, too (we're fortunate enough to live on one of them, which makes my husband super-happy), but I think I prefer it slightly because it feels a bit less touristy (see our home here).  Both towns have quaint little downtown areas that are perfectly lovely.
I'm going to show you several of our favorite places to go and grab a drink or dinner, because for us it really is all about the food.  I'm also going to share a delicious prosecco and elderflower cocktail recipe that I borrowed from a local restaurant.
In Pinehurst, you really have to stop in for a drink at the Carolina Hotel.  The Ryder Cup lounge serves bar food and drinks that you can take out to the huge porch. (That area under the green awning?  It's all porch, and rocking chairs.  So fun!)
The Pine Crest Inn is much smaller, but the porch is just as sweet.  They have a great happy hour deal there on Sunday nights, which is when my husband I tend to stop in.
We also love Ironwood; it's on the line between Southern Pines and Pinehurst.  Their food is yummy and they have seating outside in their beautiful kitchen and herb garden.
Over in Southern Pines, we have quite a few favorites.  Our kids go to school downtown and this is only five minutes from our house, so we're over here quite a bit.
Ashten's never disappoints for cocktails or dinner.  We prefer to sit in their pub area, with its cozy couches and chairs.  The cocktail recipe I'm sharing is an Ashten's creation, by the way.  Their Ashtini is also yummy.
Chef Warren's is always a good choice for dinner and drinks.  Warren cooks whatever he feels like making that day, which ensures that it's always delicious.
The Wine Cellar allows you to buy a bottle or just a taste, and they have this pretty outdoor porch where you can sip your wine and listen to live music.
Harley wants you to know that Southern Pines is a very dog-friendly town.  Many of the local shops and restaurants on Broad Street (our main street) put out bowls of water for thirsty pups.  If your furry friend craves a homemade dog biscuit and some shade, then stop by the Broad Street Bakery.  Pick up one of their cinnamon rolls or a fried green tomato sandwich for yourself while you're there!
The Jefferson Inn on New Hampshire Avenue is a great place for a drink.  Their indoor bar is dark and cozy, and their courtyard in the back is the perfect place for a party, with live music most nights.
There are at least a dozen other restaurants that I could mention, and tons of small shops, but I'll save those for another day.
One thing to keep in mind if you're local (or are planning a visit) is that my kids' school hosts a restaurant and shop crawl in the early fall called "The Taste of Southern Pines."  Your ticket gives you access to most of the shops and restaurants in the downtown area, and each chef will share a sampling of their favorite treats and drinks.  It's such a fun event, and a great way to try everything Southern Pines has to offer!
Now, let's have a prosecco and elderflower cocktail on the porch, shall we?
Ashten's serves this, although they call it a Bubbly Saint.  It's light and refreshing; perfect for summer.
St. Germain is one of my favorite liquors, it might have something to do with that gorgeous Art Deco bottle.
Cheers to you all, and thanks for stopping by!
Next up, head over the The Turquoise Home as she shares her favorite places in Franklin, Tennessee, which is such a fun town!  Since we lived in Nashville, and I'll actually be there next week getting our rental house ready for the new tenants, you can be sure that I'll check out her list!
Here's the rest of the itinerary:
THE GREAT SOUTHERN ROAD TRIP ITINERARY
Southern State of Mind {Atlanta, GA} | Restless Arrow {Belton, SC}
Southern Hospitality {Marietta, GA} | Our Southern Home {Caswell Beach, NC}
TUESDAY ROUTE: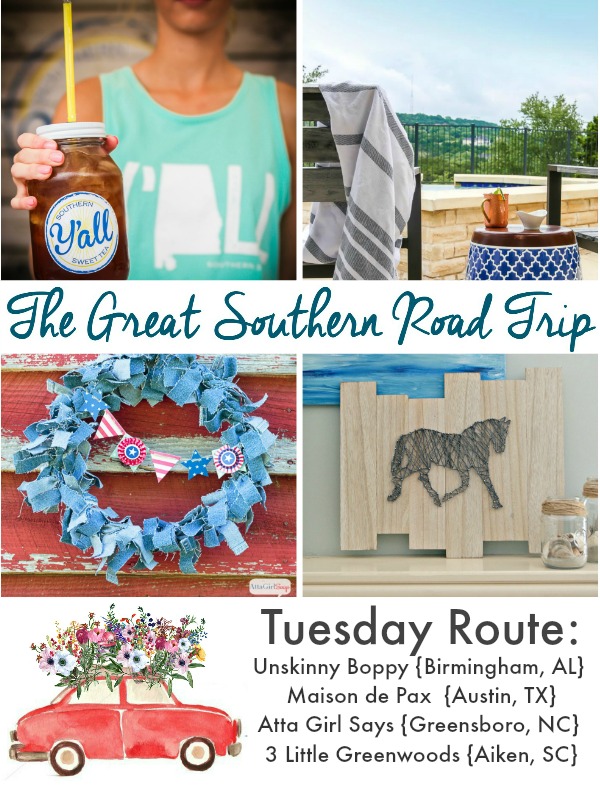 Unskinny Boppy {Birmingham, AL} | Maison de Pax {Austin, TX}
Atta Girl Says {Greensboro, NC} | 3 Little Greenwoods {Aiken, SC}
WEDNESDAY ROUTE:
Dixie Delights {Savannah, GA} | Slightly Coastal {Fernandina Beach, FL}
Uptown Acorn {Grand Isle, LA} | The House of Wood {Nashville, TN}
THURSDAY ROUTE:
11 Magnolia Lane {Southern Pines/Pinehurst, NC} | The Turquoise Home {Franklin, TN}
Duke Manor Farm {Pendergrass, GA} | Domestic Charm {Charlotte, NC}
FRIDAY ROUTE:
Our Fifth House {Charleston, SC} | At Home with the Barkers {Greenville, SC}
Simple Stylings {Mount Pleasant, SC} | Refresh Restyle {Bishop, GA}
Thanks for stopping by–
YOU MIGHT ALSO LIKE THESE POSTS... :